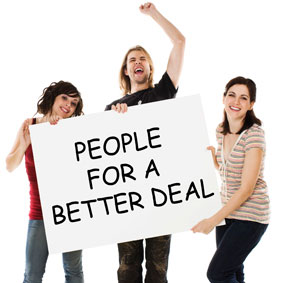 At Real Direct, we call ourselves "People for a better deal". And by "better deal," we don't just mean getting a great price on a home. It's much more than that. It's about getting a better deal by creating a happier and less stressful buying or selling experience for everyone.
Dealing with Traditional Real Estate Agents
You may not know it, but when you deal with a lot of traditional real estate agents your dealing with non licenced Agents, most only have the basic certificate of qualification.All Real Direct Agents are Licenced Professionals, which means they are licenced to own and operate their own real estate business.
So what can you do about it?
You can do your homework on your agent and your property so you can make a more informed choice. You can choose to deal with a QUALIFIED professional. You can do more online to make it easier and more convenient. You can choose the level of service and types of services which are right for you.
The Real Direct Solution
We see a world where people can move up, get more with the guidance from a qualified professional. With Real Direct's professional service advantage we promise that you will achieve the better results.
We back this up by combining the most up to date data driven best practices, with superior negotiation skills, enhanced by convenient online tools and open approach to great service.
But most of all we have a ONE FEE for ALL service. All property sellers pay the same selling fee (1.1%)+ optional performance fee and all Landlords pay the same property management fee (5.7% per month).
In the spirit of a better way
It might make us sound a bit like a beauty pageant contestant, but we want to make things a bit better than we find them. We strive to help the industry find a better way and hope to give back to help those who need it more.Our aim is to donate 5% of profits each year, primarily to the homeless. We try to do the right thing by the environment and move our impacts from negative to neutral or better still positive. We're far from perfect, but we're working on it.